Web3D at SIGGRAPH 2023
Primary tabs
Submitted by

anita.havele

on Tue, 2023-04-11 09:28
Celebrate 50 Years of SIGGRAPH Conferences with Web3D Consortium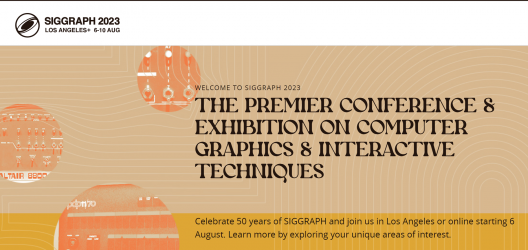 Sunday, 2023, August 6 - 8:00am

to

Thursday, 2023, August 10 - 6:00pm
Join the Web3D Consortium at SIGGRAPH 2023 as we celebrate 28 years of breakthroughs in 3D Web technology along with 50 years of SIGGRAPH history. Attend our Birds of a Feather (BoF) discussions, bolstered by a community of innovators who have mapped the future of interactive, real-time 3D Graphics.
Cartographic Visualization (Carto) BOF -  Monday, August 7, Noon - 1:30 PM in the ACM SIGGRAPH Village Theater.
ACM SIGGRAPH Cartographic (Carto) Visualization Bird of a Feather (BOF) session will highlight the future of digital mapping to support our daily lives. Presenters will demonstrate various solutions for interactive cartographic display and international mapping.  

Twitter thread
X3D4 is Web3D Ready - A major upgrade to the X3D Graphics - 
Monday, 7 August 2023 - 3:00 PM  - 4:30 PM Pacific. Room 514.
X3D4 is the basis of multiple file encodings and programming language bindings. The X3D4 Architecture Specification is Web ready, used in many 3D applications, highly mature, implemented, functionally complete, and undergoing final editorial review for International Standards Organization (ISO). Join us and learn more on how X3D4 has evolved to support current 3D technologies.  
Presentations:
X3D Overview by Anita Havele
X3D4 - What is New? ISO Activities and X3D Contributions for SIGGRAPH by Don Brutzman

​​​

 glTF Physically Based Rendering (PBR)

Humanoid Animation (HAnim2)

Web Audio API and MIDI2

Demos and Use cases by Nicholas Polys 
3D Web Interoperability for the Metaverse - Tuesday, 8 August 2023 - 1:00 PM  - 3:00 PM Pacific. Room 514.
Industry leaders, Standards development Organizations (SDO), Metaverse Standards Forum(MSF), and Browser developers will discuss how best to make the Metaverse fully interoperable with the WWW and the Standards ecosystem. 
Presentations: 
Web3D/X3D by Anita Havele
Metaverse Standards Forum by Neil Trevett
3D Web Interoperability Proposal by Nicholas Polys
Discussion topics:

The nature of Metaverse Interoperability

WWW and device interfaces

Web Architecture & current standards

3D Assets Interoperability 

Use Cases and domains

Paths to Interoperability

SDOs and engagement

Industry Support