Cobweb is now X_ITE
Primary tabs
Submitted by

anita.havele

on Fri, 2017-09-22 15:04
Cobweb an X3D player is now X_ITE.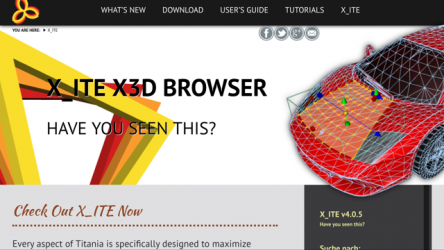 Check out the new face of Cobweb now called X_ITE designed to maximize developer productivity. X_ITE creates powerful X3D scenes with the rich set of X3D nodes making development not only productive but also an enjoyable experience.
X_ITE implements a high-performance X3D player in open-source JavaScript. Authors can publish X3D source within an HTML5 page that works in modern Web browsers without prior plugin installation.
Several bug fixes and added functionalty: Wow! 
Better font support for polygon text.
Better mouse wheel reaction in walk viewer.
The X3DCanvas element can now be styled in Internet Expolorer (IE), this is important if the fallback is visible.
X3D functions for external browser are now called when scenes are loaded.
Changed handling of fallback css attribute display.
Package is now available via code.create3000.de and jsDelivr.
NPM is now the package management system.
Multiple Web3D Consortium assets have been updated to take advantage of excellent capabilities provided by X_ITE.  Updates include 3900 models in the X3D Example Archives (example HelloWorldX_ITE.html), X3D to DOM conversion stylesheet, X3D-Edit authoring tool, and the X3D Java Scene Authoring Interface Library (X3DJSAIL).
Also published: Web3D Consortium tweet "New release: Cobweb player is now X_ITE #X3D Player. Have you seen this? Wow!"