Bitmanagement Releases Update of BS Content Studio
Primary tabs
Submitted by

Webmaster

on Sun, 2014-11-23 19:09
Bitmanagement has released a new version of BS Content Studio. This version incorporates significant improvements in a variety of aspects, including 64-bit application.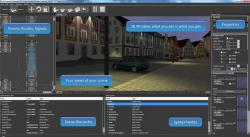 Bitmanagement has incorporated user feedback from its initial release of BS Content Studio. These added or revised features improve the tool and make it suitable for large scale commercial projects as well as individual efforts. The new version includes
New creation system
New project manager
New 64-bit version
Improved X3DOM export
Updated online manual
Bitmanagement's BS Content Studio press release includes detailed information on the changes. You can download the software from Bitmanagement's download center.