WWW 2017 Conference, Perth Australia
Primary tabs
Submitted by

brutzman

on Mon, 2016-02-08 08:53
WWW2017 will be the centrepiece of Perth's 'Festival of the Web' – a series of co-located conferences, seminars and events bringing together academia, industry, government and the community.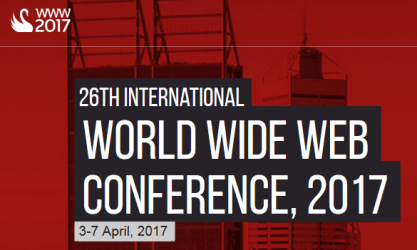 Monday, 2017, April 3 (All day)

to

Friday, 2017, April 7 (All day)
In keeping with the conference's long history, WWW2017 will be a tier-1 academic conference providing a forum for discussion and debate about the evolution of the web, technical standards, the impact of the web on society, and its future.
In 2017 there will be a focus on eLearning, remote services, security and privacy. In addition, a W3C technical stream will review and consider web standards and the impact and needs of the rapidly expanding web universe.
A call for papers will open in mid 2016 and should relate to one of the four themes below.
1

Making decisions
The web is powerful, empowering and potentially dangerous. The momentum of ideas crossing borders at high speed challenges the way we govern and regulate our societies.
We ask:
Is there a better way to collect, harness and manage this energy?
Can we use web technologies to reduce conflict and better manage compromises?
Is it possible to improve the level of agreement in our activities?
2

The balance between technology and culture
Technology has always influenced culture but the current intensity of that has no precedent. Let's consider where this is heading. As brands move from advertiser to friend, and as computer hardware becomes an extension of self, questions are raised.
We ask:
How are our cultural loyalties shifting and what is happening to our values?
Where do we draw the line between commerce, regulators and culture?
The web has the potential to isolate as well as empower, so how should society embrace this world-changing communications channel?
3

Rethinking place
Our place on Earth has been defined by geography, our connections and our access to information. Now travellers see and understand their destination before they arrive, and leave behind information trails about the places they've visited. We are increasingly mediating our relationships by overlaying virtual experiences onto physical spaces.
In Western Australia, remote-operated mines provide essential resources for Asian growth, while the secrets of the universe are soon to be decoded in the world's newest supercomputer. Nowhere is remote, nothing is hidden.
We ask:
What does this change mean for our identity and humanity?
4

Living in the always on
Today, we are connected, we are revealed, and we are part of the solution. Our concept of data has grown to include our bodies, our relationships, and our virtual environment. Data-mining, sensors, pattern recognition and new attitudes to the sharing of data are reconstructing the way we analyse our surrounds. The presentation of data will undergo radical change by 2017 as information is delivered in more emotionally compelling and time-sensitive ways.
We ask:
How will these changes change us?