Vivaty Studio
Vivaty Studio is an interactive tool for creating X3D worlds. It allows the user to create all aspects of an X3D world with a graphical user interface.
The tool is provided free of charge as a service to the community. Only a PC version is available. During installation you will be required to agree to the following license. Please read and accept at your own discretion. The Web3D Consortium takes no responsibility for this product, including operation or support. Note that Vivaty.com is not an operational domain.
Comments may be sent to the Consortium on the Contact Form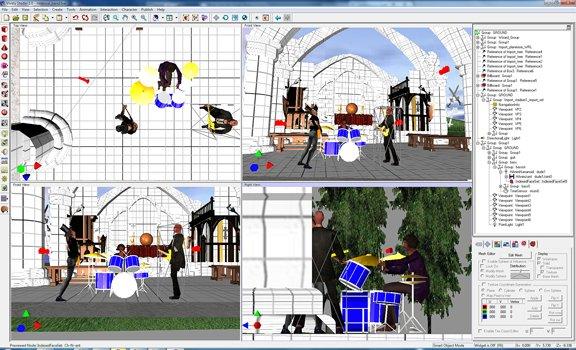 Image courtsey of Nicholas Polys and Virginia Tech
License Agreement
NOTICE TO ALL USERS: PLEASE READ THIS LICENSE AGREEMENT CAREFULLY. THIS IS A LEGAL AGREEMENT BETWEEN YOU (EITHER AN INDIVIDUAL OR, IF YOU USE THE SOFTWARE ON BEHALF OF AN ENTITY, SUCH ENTITY) AND VIVATY, INC. ("Vivaty"). BY CLICKING THE ACCEPT BUTTON OR DOWNLOADING OR OTHERWISE USING THE SOFTWARE, YOU AGREE THAT THIS AGREEMENT IS ENFORCEABLE LIKE ANY WRITTEN CONTRACT SIGNED BY YOU. IF YOU DO NOT AGREE, CLICK ON THE BUTTON THAT INDICATES THAT YOU DO NOT ACCEPT THE TERMS OF THIS AGREEMENT AND YOU WILL NOT BE PERMITTED TO DOWNLOAD OR OTHERWISE USE THE SOFTWARE.
License Grant. Subject to the terms and conditions of this Agreement, Vivaty grants you (Developer) a limited, non-exclusive, non-transferable, revocable and personal license to access, install and otherwise use the Vivaty Studio platform software (the "Platform Software") in binary form only (the "Software"), through a compatible browser, in connection with your use of the Vivaty.com website (the "Site"), for any lawful and non-commercial use, including, without limitation, developing extensions, enhancements and other derivative works on the Platform Software (collectively "Derivative Works"), subject to any restrictions or usage terms specified in any documentation provided by Vivaty with the Software.
Term. Your license to the Software continues until it is terminated by either party. You may terminate the license by discontinuing use of the Software. This Agreement terminates automatically if you fail to comply with any of the terms of this Agreement. Upon any termination or expiration of this Agreement, you must cease use of the Software and destroy all copies of the Software.
Ownership Rights. The Software is protected by United States' and other copyright laws, international treaty provisions and other applicable laws. The Software is licensed, not sold, to you, and Vivaty and its suppliers own and retain all right, title and interest (including all intellectual property rights) in and to the Software. All copies of the Software must contain the same proprietary notices that appear on and in the Software as provided by Vivaty to you. Notwithstanding the foregoing, you own any Derivative Works created by you.
Restrictions. All rights not expressly granted in this Agreement are reserved by Vivaty. You may not (a) copy, sell, lease, license, rent, loan, resell or otherwise transfer, with or without consideration, the Software; (b) reverse engineer, decompile, disassemble or otherwise attempt to discern the source code for the Software, except to the extent the foregoing restriction is expressly prohibited by applicable law; (c) modify, or create Derivative Works based upon, the Software in whole or in part; or (d) permit third parties to benefit from the use or functionality of the Software via a timesharing, service bureau or other arrangement. You may not remove any proprietary notices or labels on the Software. You may not use the Software for any illegal purposes or to store, retrieve, transmit, process or view any file, data, image or program that contains: (i) any illegal pictures, materials or information; (ii) any harassing, libelous, abusive, threatening, harmful, vulgar, pornographic, obscene or otherwise objectionable material of any kind or nature; (iii) any material that encourages conduct that could constitute a criminal offense, give rise to civil liability or otherwise violate any applicable local, state, national or international law or regulation; (iv) any code or material that violates the intellectual property rights of others; or (v) any viruses, worms, "Trojan horses" or any other similar contaminating or destructive features. You may create Derivative Works based upon the Software; however, by doing so you hereby grant Vivaty a worldwide, non-exclusive, fully paid-up, royalty free, irrevocable, perpetual, sublicensable, and transferable license to use or display such Derivative Works, including without limitation, for marketing and promotional purposes.
Confidentiality. Portions of the Software, including the structure, sequence and organization of the Software (collectively, "Confidential Information") are the confidential and proprietary information of Vivaty. You may not use Confidential Information for any purpose other than to exercise or perform your rights or obligations under this Agreement. You may not reproduce, disclose, disseminate or otherwise communicate, in whole or in part, Confidential Information to any third party. Upon Vivaty's request and, in any event upon termination of this Agreement, you will promptly return to Vivaty or destroy all Confidential Information together with all materials that are based on or contain Confidential Information and certify in writing that all such Confidential Information has been returned or destroyed, as applicable.
Warranty Disclaimer. THE SOFTWARE IS PROVIDED "AS IS" AND VIVATY AND ITS SUPPLIERS MAKE NO WARRANTY OF ANY KIND, AND EXPRESSLY DISCLAIM ANY WARRANTY OF MERCHANTABILITY, FITNESS FOR A PARTICULAR PURPOSE OR AGAINST INFRINGEMENT. YOU ASSUME RESPONSIBILITY FOR SELECTING THE SOFTWARE TO ACHIEVE YOUR INTENDED RESULTS, AND FOR THE INSTALLATION OF, USE OF, AND RESULTS OBTAINED FROM THE SOFTWARE. WITHOUT LIMITING THE FOREGOING PROVISIONS, VIVATY MAKES NO WARRANTY THAT THE SOFTWARE WILL BE ERROR-FREE OR FREE FROM INTERRUPTIONS OR OTHER FAILURES OR THAT THE SOFTWARE WILL MEET YOUR REQUIREMENTS. Some jurisdictions do not allow some of the exclusions or limitations as set forth above, so some of these exclusions or limitations may not apply to you. In that event Vivaty's liability will be limited to the fullest extent legally possible under the applicable law.
Limitation of Liability. The Software is being provided to you free of charge. ACCORDINGLY, UNDER NO CIRCUMSTANCES AND UNDER NO LEGAL THEORY, WHETHER IN TORT, CONTRACT, OR OTHERWISE, SHALL VIVATY BE LIABLE TO YOU OR TO ANY OTHER PERSON FOR ANY DAMAGE OR LOSS OF ANY KIND, INCLUDING WITHOUT LIMITATION ANY DIRECT, INDIRECT, SPECIAL, INCIDENTAL, OR CONSEQUENTIAL DAMAGES, LOSS OF PROFITS, OR LOSS OF GOODWILL, EVEN IF Vivaty HAS BEEN ADVISED OF THE POSSIBILITY OF SUCH DAMAGES. YOUR EXCLUSIVE RIGHT AND REMEDY WITH RESPECT TO ANY PROBLEMS OR DISSATISFACTION WITH THE SOFTWARE IS TO DEINSTALL AND CEASE USE OF SUCH SOFTWARE. Some jurisdictions do not allow the exclusion or limitation of incidental or consequential damages, so the above limitation or exclusion may not apply to you. The foregoing limitations and exclusions shall be enforceable to the maximum extent permitted by applicable law.
Governing Law. This Agreement shall be interpreted in accordance with the laws of the State of California without reference to its conflict of law provisions. Any litigation, suit or other proceeding regarding the rights or obligations of the parties hereunder shall be conducted exclusively before the state and federal courts in and for San Francisco County, California and the parties specifically consent to San Francisco, California, as the exclusive venue for any such proceeding. This Agreement shall not be governed by the United Nations Convention on Contracts for the International Sale of Goods, the application of which is expressly excluded.
Free Software. The Software includes or may include some software programs that are licensed (or sublicensed) to the user under the GNU General Public License (GPL) or other similar licenses which, among other rights, permit the user to copy, modify and redistribute certain programs, or portions thereof, and have access to the source code ("Free Software licenses"). The GPL requires that for any software covered under the GPL, which is distributed to someone in an executable binary format, that the source code also be made available to those users. For any such software, the source code is made available in a designated directory created by installation of the Software or designated internet page. If any Free Software licenses require that Vivaty provide rights to use, copy or modify a software program that are broader than the rights granted in this Agreement, then such rights shall take precedence over the rights and restrictions herein.
No Support. Vivaty may make changes to the Software at any time without notice. Nothing in this Agreement obligates Vivaty to support or provide you with updates or error corrections to the Software.
Compliance with Export Laws. You acknowledge that the laws and regulations of the United States may restrict the export and re-export of certain commodities and technical data of United States origin, including the Software in any medium. You agree that you will not export or re-export the Software in any form without the appropriate United States and foreign government licenses. You also agree that your obligations pursuant to this section shall survive and continue after any termination or expiration of this Agreement.
Entire Agreement; Site Terms. This Agreement sets forth all rights for you as a user of the Software and is the entire agreement between you and Vivaty with respect to the Software. This Agreement supersedes any other communications, representations or advertising relating to the Software. Please note that your use of the Site is further subject to the Vivaty Terms of Service (
Waiver; Severability. No provision of this Agreement is waived unless such waiver shall be in writing and signed by Vivaty. If any provision of this Agreement is held invalid, the remainder of this Agreement shall continue in full force and effect.
Modifications. This Agreement may not be modified except as provided in this paragraph or by a written amendment signed by Vivaty's duly authorized representative. Vivaty reserves the right to modify this Agreement at any time by sending you the revised terms or by publishing them on the Site, with 15 days prior notice. You may be requested to review and click on the "Accept" button with respect to such modifications. Your express acceptance of the revised terms, or your continued use of the Software after expiration of the 15-day notice period, means you have accepted, and agree to be bound by, the revised Agreement's terms and conditions.
You can find the latest version of this Agreement at www.vivaty.com