Immersive Exhibit Design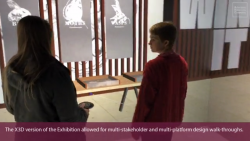 The Challenge: The Winged Insect Exhibition is designed by students in Environmental Design and New Media course. Students created multiple virtual versions of The Winged Insects exhibition before holding the exhibition in the actual space. The 3D designs were developed with tools like Sketchup, Maya, and Blender to produce ISO-IEC standard X3D.
The Solution: The X3D version of the Exhibition allows for multi-stakeholder and multi-platform design presentations through Web3D and Immersive Hyper Cube experience.
Through the X3D version of Winged Insects exhibition in the Hyper Cube students experienced multiple prototypes and changed their design in the virtual space [video]. The Project received the SegD Merit Award for Exhibition Design (2018).
The Contributors: Katie Meaney & the team at Virginia Tech.